MTP for Mac is an Android file transfer driver for macOS. It is a kernel filesystem driver that lets you access Android gadget's files by USB. Connect Android to macOS, and you will see it as a file system. It gives you native access to your Android (or any other MTP compatible devices) on macOS (Mac OS X). Just connect your Android phone or tablet via USB cable to your Mac and allow "File transfer", you will access your photos, mp3, or any other types of files on it. You will get them the same way as you would insert a USB stick or any other external drive. Your gadget will appear in the system as another drive.
That means that you can access any files on your mobile device from Finder or any other software on your Mac. And it's already unnecessary to copy these files with Android File Transfer to your local disk in advance to use them. You even can edit them directly on your's device from macOS.
It makes a seamless user experience with your device.
macOS

11+ ARM experimental
The product is in the final stage before the start of sales.
You can re-activate the trial period of the product as many times as you want by registering on the site. So use it for FREE!
MTP for Mac:
Connect Android to macOS
How my mobile
will look like?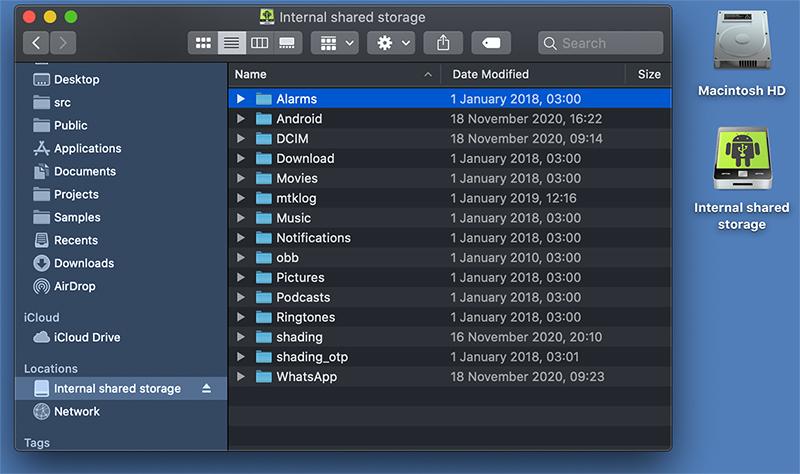 The software supports macOS (OS X) from 10.11 (El Capitan) and higher (Intel platform).
To install you should enable the installation of third-party components in System Preferences / Security & Privacy. Note that on Heigh Siera and higher, for security reasons, the system prevents loading extensions until it's Allowed by the user.
Providing that you need to open Security preferences / Security & Privacy panel, and press Allow opposite extension's name.
Detailed instructions you can find in How to install in the FAQ.
What
MTP for Mac
actually does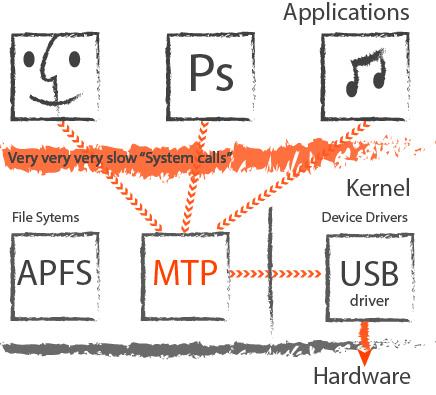 Ok, let's dive into details! So, how macOS get to know what and how to deal with different devices and protocols? It needs some special plug-ins! They are located in Kernel of macOS and knows how to work with this specific device and represent them to the user through VFS (Virtual File System - a layer of abstraction which unifies your experience with file system at all).
As you already understand, the main component of MTP for Mac is such a plug-in or Kernel Extension, or sometimes called "driver". This driver resides in a Kernel and waits until some MTP device connects to your Mac. On connection, it negotiates with the device to determine its specifics and represent it to VFS. Now you will see your Android phone or tablet as a regular disk in Finder and on the Desktop. From now you are free to use any software you like, with your photos, mp3, or any other types of files on your device!
That approach dramatically distinct MTP for Mac from the file transfer utility provided by Google Android File Transfer and let you instant access and seem-less user experience. And the big benefit is a short path for your data, which gives you transfer on as maximal speed as possible.
How can
I check
this product?
The best way to check if the product meets your needs, of cause is to use it.
To make you more familiar with our product, we provide you with a trial period of 10 days. After this period you can prolong it again for 10 days by registering on our site.
To renew your trial, please open the "System Preferences", and click the "MTP" icon. In the dialog window check "Re-activate trial with your site login and password", and fill fields "Login" and "Password".
During the trial period, you will have full functionality. No limitations!
At the moment we are in the "Pre-sales stage". During this time you can prolong the trial as many times as you need.